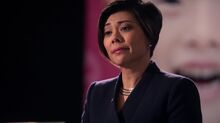 Senator Ellen Meizhou-Shi Is the United States Senator from Washington D.C. in 2065. The Senator sponsored Steven's Law which is a bill that would make genetic alterations legal on fetuses in order to prevent birth defects. She was targeting killed by Memento Mori Because of her politics.
Trivia
Since Washington DC is not a state there are no United States senators representing the capital which means that in the minority report universe Washington D.C. either became a state or there was a law passed allowing DC to representation in the Senate.
Ad blocker interference detected!
Wikia is a free-to-use site that makes money from advertising. We have a modified experience for viewers using ad blockers

Wikia is not accessible if you've made further modifications. Remove the custom ad blocker rule(s) and the page will load as expected.