This article is a stub! Help the Minority Report Wiki by adding a few sentences here!
Broadcast
Original run
September 21, 2015 –
No. of Episodes
Length
Nielsen rating
18-49 rating:
TBA
Viewers (million):
TBA
Home video release
DVD release
Blu-ray Disc release
Seasons
Season 1 of Minority Report is the first introduction of the Minority Report into the realm of television.
Summary
Set 10 years after the end of PreCrime in Wasington D.C.. One of the three Precogs, Dash, struggles to lead a "normal" human life, but remains haunted by visions of the future, when he meets a detective, Lara Vega, who is haunted by her past who just might help him find a purpose to his gift.
Cast
Starring
Recurring cast
Releases
Episodes
Picture
Title
Number
Season Number
Production Code
Original Airdate
U.S. viewers
(million)
150px
"Pilot"
1
1
September 21, 2015
Dash is a quiet, idealistic precog secretly living among society, who tries to use his ability to see future murders to save lives by teaming up with the brash, but shrewd, Detective Lara Vega.
150px
"Mr. Nice Guy"
2
2
September 28, 2015
Dash and Vega team up again to find a killer who is currently down on love. Meanwhile, Dash continues to reach out to his siblings for help.
150px
"Hawk-Eye"
3
3
October 5, 2015
Vega wants Dash to be the analysts for Hawk-Eye, a new police program monitoring suspecious behavior; Dash and Vega wonder what Arthur's plans are.
150px
"Fredi"
4
4
October 12, 2015
Dash goes undercover to catch a woman suspected of having a vendetta against her sister's killers. Meanwhile, Agatha begins to set her own plans in motion.
Reception
Overall response by critics is very poor, with Rotten Tomatoes reporting a 29% approval rating. Many fans of the series are positive about it, but critics note that the series of "lacking either the action or the imagination of its big-screen predecessor, Minority Report is a pedestrian spinoff that fails to capture the vision of the film."[1]
Advertising and Marketing
Banners
Cast Photos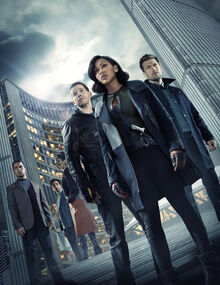 Character Posters
Posters
Promotional Photos
Promotional Videos
Cite error: <ref> tags exist, but no <references/> tag was found