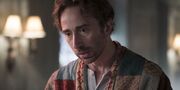 Mr. Wallace, or more commonly known as Wally the Caretaker,
Early Life
In high school, he built a DY
Joining PreCrime
Wally was interviewed by an unidentified government agent for the PreCrime Division. After the agent lists several of his activities during his early life, he was forced to join.
He questioned the morality of the PreCrime Division, utilizing three children (Agatha, Arthur, and Dash), and the agent justified sacrificing three lives to save thousands, if not tens of thousands.
Ad blocker interference detected!
Wikia is a free-to-use site that makes money from advertising. We have a modified experience for viewers using ad blockers

Wikia is not accessible if you've made further modifications. Remove the custom ad blocker rule(s) and the page will load as expected.